Download Maps for Minecraft PE APK Info :
Download Maps for Minecraft PE APK For Android, APK File Named com.ultimategamestudio.mcpecenter.maps And APP Developer Company Is Ultimate Mobile . Latest Android APK Vesion Maps for Minecraft PE Is Maps for Minecraft PE 1.10.0 Can Free Download APK Then Install On Android Phone.
Maps for Minecraft PE APK Description
Install MCPE's world maps on your Android device is now easy than ever with Maps for Minecraft PE Browse map you like, then press INSTALL, all done. Then you can switch to Minecraft and enjoy your downloaded map from world list. FEATURES: - One click to install map. - Many categories to choose include hot maps like Skywars, Minigame, Survival, Parkour.. - Support various MCPE version from 0.13.0+, 0.14.0+, 0.15.0+, 0.16.0+ - Complete guide and support. - You can submit your own map. - Weekly update with tons of new maps. ATTENTION: This application does use the internet to load new data, so please be aware of data usage! This is an unofficial application for Minecraft Pocket Edition. This application is not affiliated in any way with Mojang AB. The Minecraft Name, the Minecraft Brand and the Minecraft Assets are all property of Mojang AB or their respectful owner. All rights reserved. In accordance with http://account.mojang.com/documents/brand_guidelines
From version Maps for Minecraft PE 1.10.0
:
Added: 2016-12-01 13:34:53
Modified: 2016-12-01 13:34:54
Updated: 2019-01-04 09:36:40
- New interface
- Optimize performance & data
- Fix minor bugs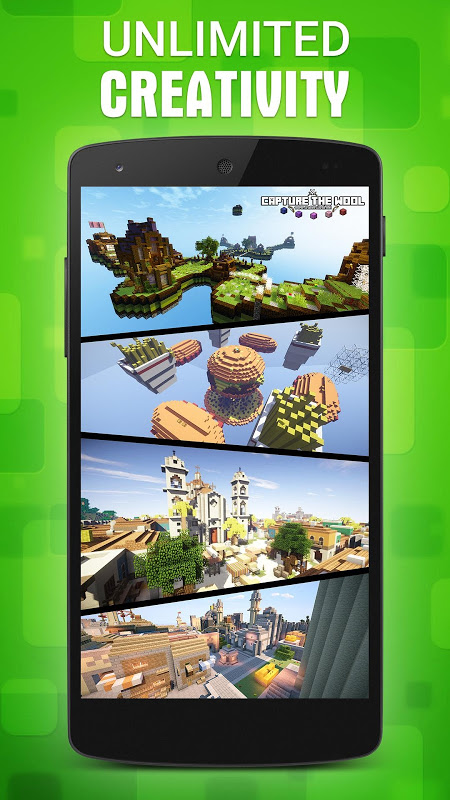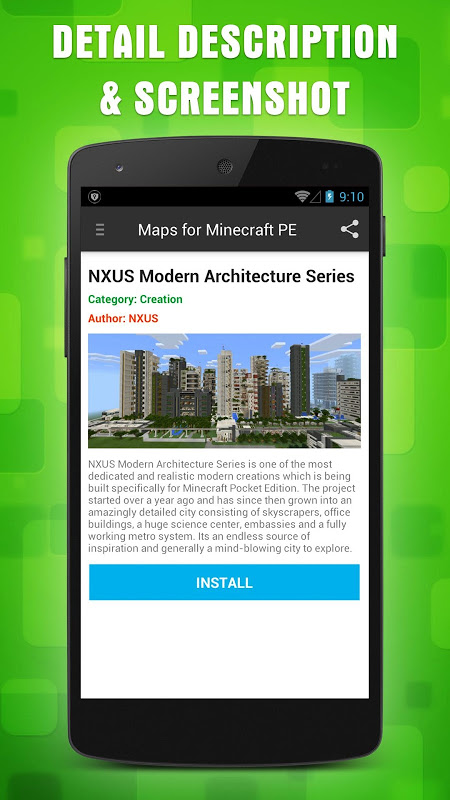 eu sou a super céo deste aplicativo
i cant find the maps in minecraft
hola quería saber si me podías ayudar, yo descargo los maps y cuando voy a minecraft no los puedo jugar, ni siquiera me aparecen
Spider-Man homecoming Redstone map
i like building and and maps dont say im lazy also mcpe rulez
add more like citys frome bat man or superman
I love it . it's perfect!!!!
no yo MiniBoxPE gg YourPassword go taem ana
Do DanTDM's LAB Old version
i would rate 5 stars if you add more
ييييييييييلللللللللبيييييييييييييتتتتتتتتتتتتتتتتت اعرف اشغله
daora esse mod pra mine pe eu baixei vários mapas
Me gozei aqui carah! nossa
امانة واحد يقول التطبيق حلو ولا لا
FODA FODA FODA FODA FODA FIDA FODA FODA FODA FODA
cuando abro algún mapa aunque me ponga en creativo no me aparecen loa botones de juego ni él inventario solo cuando abro cofres
BEST MINECRAFT MAPS EVER!!!!!!
Muito bom merece 5 estrelas
esta de lo mejor que pasada
Its true lh..and its not fake jbbh!
putoooooooooooooooooooo gayyyyyyy
PLESE READ ME! YOU CANT INSTALL A MCPE MASTER ALL SKIN ALL MOD ALL SEED ALL MAP ALL TEXTIOR
it's really cool and awesome
its cool but is better if they put more cool maps but thanks
Download Maps for Minecraft PE APK Android